In the foothills of Lincoln Heights, Los Angeles, one might expect to see couples walking down Griffin Avenue and enjoying lunch from the local taco stand, or teens skating down Broadway, so Ali Greer and Eric Tomassini tending to a hillside filled with edible greenery can be an unexpected sight.
However unlikely, the regenerative duo have established for themselves a micro farm amidst the apartment complexes and skyscrapers dotting the Los Angeles skyline. Spotting a previously unused hillside overlooking avenue 33 in 2018, Ali and Eric decided this would be a perfect place to plant their regenerative vision. Filling their cozy 1.2 acre plot with a vast diversity of flora, with the ultimate goal of creating a food forest to provide for their community as well as their soil, the duo's dream has quickly and fruitfully materialized.
Avenue 33 Beginnings
What started as a typical Los Angeles hillside – with grasses, dirt, and maybe a couple cacti – is now teeming with life. Ali and Eric have worked tirelessly to transform undeniably unforgiving Los Angeles soil into a regenerative oasis. They have utilized terracing and fruit trees to anchor their hillside, and composting to bring nutrients into their soil. Strolling (or hiking) through their property, one might find tomatoes, peppers, carrots, beets, lettuce, and a thriving flower population, filling a once bleak city landscape with a pop of color.
Though now the resident experts of Lincoln Heights in the realm of regeneration, an urban farm like Ali and Eric's wasn't always a stroll in the pasture, so to speak. "Our barriers have been the same as any farmer," said Ali. "Not enough time, not enough money, and burnout."
Urban farming can be difficult. Land and land upkeep are expensive, and in a bustling city, time seems to fly a mile a minute. Additionally, Avenue 33 Farm is a relatively small space, whereas most of the information available about implementation of regenerative farming practices is primarily directed at large-scale operations. Instead of collapsing inward under the weight of agricultural adversity, Ali and Eric looked to their community for support. "If anything," explained Ali, "the support of people in our community for regenerative agriculture has been energizing and kept us going."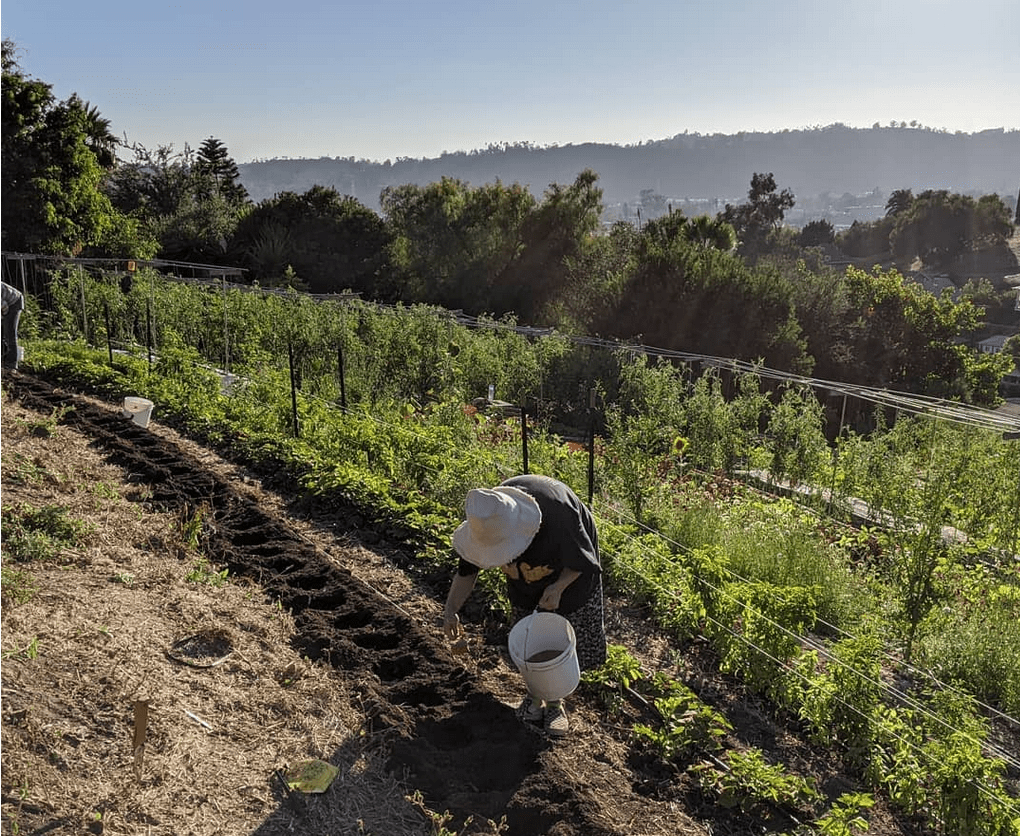 One massive upside to tackling regenerative farming in the urban sphere for the Avenue 33 duo has been the large population ready to reconnect with the land. These two have a passion for showing locals how their hilly landscape can be bountiful, despite being so close to the concrete jungle.
Los Angeles, though expensive and starved for space, is definitely not limited in terms of momentum within the regenerative movement. Avenue 33 Farm is leading the charge of small city farming operations, as well as supporting relief efforts to ease issues of food insecurity and urban farming education. This shines a light on an especially exciting aspect of regenerative farming: the extent to which agriculturalists can change the regenerative sphere simply by fostering a sense of community.
Of course, regeneration involves burying your head in the soil (metaphorically) to understand what the land needs to rebuild, but community is also an important, and often overlooked aspect of the process. Not only can community aid in quelling a sense of burnout, but Ali and Eric have also looked to fellow farmers – as well as the Kiss the Ground's Farmland Program – for feedback on strategy and implementation.
"Being a part of the Farmland Program has given me and Eric the ability to work one-on-one with a mentor and soil scientist, as well as partake in a soil health training course," said Ali. "It has also connected us with other farmers who are transitioning their landscapes to learn how they solved some of the problems we have faced. It took us out of our silo."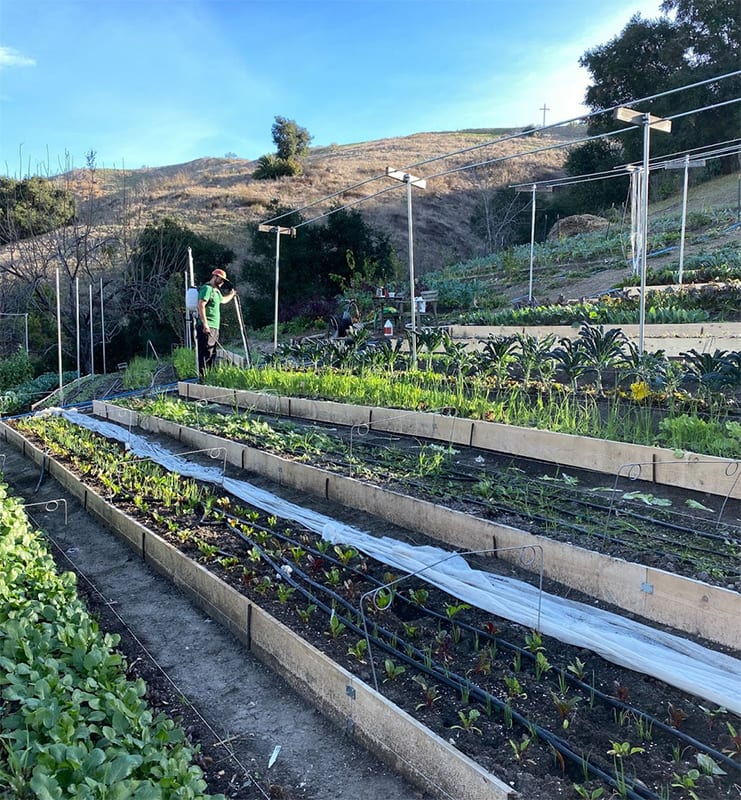 When founding Avenue 33 Farm, there were no rulebooks to follow on regenerative urban farming, or how to turn a Los Angeles hillside into a successful agroforest. Ali and Eric researched traditional techniques of growing food from around the world, and were surprised to find that hillside farming has been feeding communities for centuries.
Through trial and error, they aim to build on the hard work of indigenous farmers across the globe to find techniques that work well for their goals and context, while sharing these practices and learning from other urban farmers in an ever-growing regenerative landscape. In this sense, regeneration for these urban farmers has been humbling as they listen to and grow with the community around them. Learning about their land has shown Ali and Eric how to care for their soil, but also how to be an active part of a community by providing healthy and wholesome food.
For Ali and Eric, this important intermingling of community and agriculture goes deeper than simply sharing tips and tricks. When Covid hit Los Angeles, it hit hard. Due to their reliance on large distribution channels and a rapid increase in demand, grocery stores in LA could not keep food on their shelves; the disruption in the supply chain sent ripples throughout the community. Ali and Eric saw their city in need, and they knew they had to do something. For those who didn't feel safe going to crowded grocery stores, Avenue 33 provided vegetable boxes and flowers for their neighbors. They also began to donate to food distribution sites as well as to mutual aid funds in their area. Through Polo's Pantry, a main hub of food distribution in Los Angeles, they connected with People's Pantry in the El Sereno neighborhood to keep milk and produce cool each week in their walk-in fridge.
Avenue 33 Farm plans to continue their unwavering commitment to bettering not only the land they occupy, but the city they're a part of. "As we grow and are able to spend more time off farm we hope to deepen those connections," Ali explained, "as well as start working with local schools, supporting their school gardens."
For Ali and Eric, regeneration in practice is being part of a working land, as well as an evolving community system. They listen to what their neighbors want and need, and do their best to share what they have learned and provide in ways that benefit all.
Today, Avenue 33 Farm is thriving as it brings healthy food to the community while providing a home to the many bugs and animals struggling to find solace in a bustling busy city.
"We have seen a huge increase in soil biology compared to the uncultivated parts of our property," noted Ali. "That brings in a lot of birds and other animals that like to eat the bugs in the soil. Those bring some predators like hawks and coyotes who frequent the farm much more than when we first moved in. Our flowers have attracted a ton of hummingbirds, butterflies, bees, and pollinators, which bring in a ton of beneficial bugs and insects."
Ali and Eric are making strides in the urban regenerative movement, but really they are doing so much more than that. Through an expert eye for soil care and small scale regenerative technique, they are bringing life back to their little Los Angeles enclave. Soil health begins an ecological chain reaction, allowing for habitats that can welcome and sustain myriad forms of plant and animal life. In this sense, Ali and Eric are regenerating ecosystem health not only for the current and future benefit of their community, but for the future of the earth itself.
Regenerative agriculture is beautiful in that working for the betterment of our soil reaps benefits that we, as farmers or simply people, can all see and appreciate. As Ali and Eric continue to work to imbue both life and hope into their community, it gives us all an opportunity to get a little more out of our own silos.
To learn more about Avenue 33 Farm's mission, current, and future projects, visit their website (www.ave33farm.com) or follow them on Instagram (@ave33farm).
Check out this short video featuring Avenue 33 Farm produced by GUESS Advocacy in collaboration with Kiss the Ground: https://youtu.be/CGYR9ml7kF4