"Our mission is rooted in the ambitious and idealistic hope that we can learn through engagement, observation, and our dedicated lifetimes to become active participants in the stewardship and regeneration of native ecosystems, watersheds, and human life ways."

With a changing climate, many communities nestled within Santa Barbara's rolling hills have watched helplessly as the land consumed by drought goes up in flames. Looking upon a landscape charred, dusted in ash and smoke, Farmers and Shepherds Jenya Schneider, Jack Anderson, and Anthony Graham of Cuyama Lamb see a way out. Cuyama lamb is committed to the regeneration of native California grasslands and the sustainable production of ethically raised food & fiber. Their collaboration and co-operation model of agriculture is informed by a passion for laborer rights and is rooted in age-old Native American principles of land stewardship and regeneration. With the lofty aim of fire reduction and ecosystem restoration, Jenya, Jack, and Anthony look to sheep, the perfect natural remedy for a thirsting and shifting landscape. Animal husbandry is largely regarded by environmentalists to be hopelessly unhealthy for the earth. Animal waste, greenhouse gasses, close quarters, the livestock rearing business gets a bad rep in the world of environmentalism, and often for good reason. Cuyama Lamb serves to shift this perspective entirely.
Cuyama Lamb is a mobile sheep outfit founded in 2018 operating throughout Babareño Chumash territory, on either side of the Sierra Madre and Santa Ynez ranges, and everywhere between the Santa Clara and Cuyama Rivers. This landscape, though now dotted with wildflowers and happily grazing sheep, was once home to the Babareño Chumash tribe. Their rich history is one often hidden and purposefully neglected, but it has played an essential role in laying the groundwork for modern regenerative farming. Jenya, Jack, and Anthony saw the opportunity to break this cycle and delve headfirst into understanding and appreciating Chumach culture, specifically to better understand the ways native peoples have managed their land for centuries. Regenerative agricultural practices utilized by the Cuyama Lamb operation for the preservation of this fertile land draw heavily on the Native American archetype of existence in symbiosis with one's environment.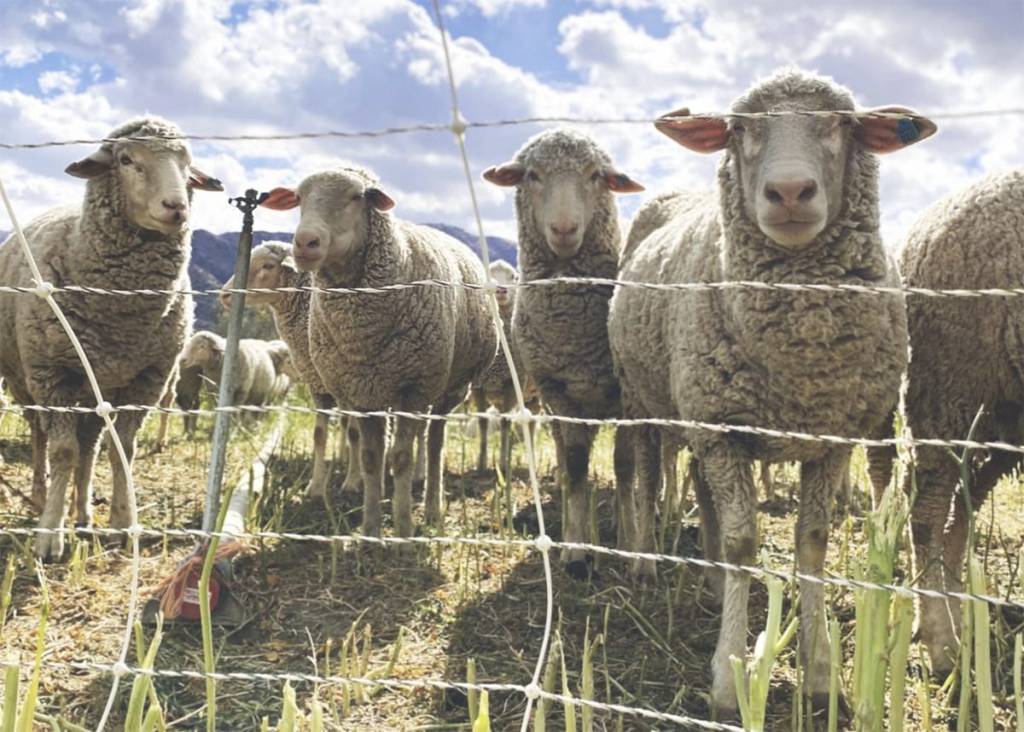 What does the concept of symbiosis look like to Cuyama Lamb? For Jenya, Jack, & Anthony, sheep rearing is so much more than wool and meat. Working in tandem with Kiss the Ground sponsored courses on holistic land management, the organization utilizes rotational grazing delineated with incredible attention to timing and space to aid in the wellbeing of their sheep, in addition to the wellbeing of the Santa Barbara landscape.
"[Jenya] was new to this work when she attended the training two and a half years ago, and it gave her some more confidence and a theoretical framework for thinking about grazing impact."
A pioneer in the regenerative animal husbandry movement, Cuyama Lamb's operation works to target grazing toward invasive species in the area. Precisely timed rotational grazing helps to preserve native biodiversity. This, along with seeding of native plants (with a little help from the sheep's natural fertilizing abilities) provides native foliage with the support it needs to outcompete invasive species that overrun sensitive ecosystems and decrease biodiversity.
Additionally, Jenya, Jack, & Anthony saw an opportunity with regenerative grazing to utilize their furry partners for the purpose of mitigating local wildfires. Fires need fuel, and with the advent of an invasive species takeover in tandem with increasingly prevalent drought conditions, the amount of fuel for wildfires has increased exponentially. The Merino sheep of Cuyama Lamb greatly mitigate fire risk by naturally pruning grasses and shrubbery which stops wildfires from spreading. Simple and effective solutions like this offer a stark example of the ways regenerative agriculture can begin to remedy the failings of corporatized agriculture.
Cuyama Lamb provides essential ecosystem services to local farmers and vintners with sheep grazing amidst cropland and vineyards. Integration of livestock into crop growing environments is an important addition to any regenerative system. Livestock provides natural fertilizer, pest control, and weed control, often increasing yield and crop viability in tandem with the benefit of keeping the animals healthy and happy. Jenya, Jack, & Anthony have reintroduced a solution for ecosystem mismanagement that is deeply regenerative in nature, and one that works to the benefit of so many environmental systems that we have neglected for so long. From fire reduction, to crop viability, to fertilization, to pest control, to land management; Cuyama Lamb tackles so many issues the regenerative movement aims to remedy with such a simple, yet genius solution.
Cuyama Lamb is committed to more than just land stewardship. Their systems approach highlights equity, as well as sustainability in the push for ecosystem regeneration.


"Our work is always a collaboration."
For Jenya, Jack, & Anthony, animal husbandry is also a deeply human operation. In addition to their collaboration with Channel Islands Restoration and Syuxtun Collective in a mission to preserve land where their sheep might not be able to graze, Cuyama Lamb works closely with the Montecito Fire, the Santa Barbara Fire, and the Parks departments. This community collaboration speaks to the central idea of the Cuyama Lamb operation: to uplift and regenerate natural landscapes in tandem with keeping our communities safe and happy. Amazingly, their dedication to human, as well as ecological uplift, does not end there. "We see worker ownership as a pathway to labor justice in agriculture and beyond."
Cuyama Lamb is currently in the process of turning their operation into a cooperative. This commitment to worker ownership is a noteworthy and respectable nod to the idea that environmentalism is deeply tied to worker autonomy. If caring for the planet is a labor of love, the essential labor that workers perform to that end should be just as much a call for valuing human life as it is a valuing of our ecosystems. Cuyama Lamb is leading the charge in looking to age-old communally oriented native land stewardship methods for the purpose of addressing the myriad issues that plague both our society and our earth. Cuyama Lamb proves that caring for the land on which we live is simple when we take a moment to understand the earth's innate ability to heal itself if only we allow it. Sometimes all it takes in the push for regeneration is an open mind and a few sheep.
For a more extensive look into the inner workings of their current operation and their plans for the future, follow Cuyama Lamb on Instagram @cuyamalamb and check out the Summer/Fall 2020 issue of Edible Santa Barbara. Additionally, Jenya is featured in the short film, "Shepherd's Song," by Abigail Fuller, featured in the Ojai Film and Santa barbara Independent Film Festivals. The film expands on Cuyama Lamb's regenerative mission, highlighting the more personal aspects of land stewardship. Finally, we are excited to share that Cuyama Lamb is the first recipient of the
Regenerating Communities Grant through Kiss the Ground's Farmland Program. Read more about their project here.