Can business be a force for good? Christina Skonberg is on a mission to see that it can. Learn more from General Mill's' Senior Sustainability Analyst about how one of the world's largest and most successful companies is approaching regenerative agriculture.
Kiss the Ground: In a few sentences or less, how would you describe your highest mission or calling?
Christina: Celebrating farmers as the most important and insightful environmentalists at the table, I'm energized by the potential within agriculture to address some of our planet's most pressing challenges—from dwindling levels of biodiversity, to the destabilization of rural economic resilience, to climate change.
Kiss the Ground: How would you describe your work in the context of regenerative agriculture?
Christina: I'm thrilled to apply my background in agricultural science to the corporate sector. Having come to General Mills with a goal to help influence the way large food companies think about farmers and farming, I couldn't be prouder of how we're advancing regenerative agriculture while also recognizing that we still have a lot to learn.
50% of our company's greenhouse gas footprint comes from agriculture. Understanding that the way our ingredients are grown represents our biggest lever for positive influence, my work within the Triple Bottom Line Operating Unit—which includes the brands Annie's, Cascadian Farm, Epic, and Muir Glen—focuses on our ingredient sourcing strategy and measuring the impact it has on three key outcomes of interest in agriculture: soil health, biodiversity, and farmer economic viability.
Kiss the Ground: Why is it important that food companies like GM / Annie's implement regenerative business models?
Christina: Consumer goods supply chains account for an estimated 60% of global greenhouse gas emissions, 80% of global water withdrawals, and 2/3 of tropical deforestation. At the same time, agriculture has contributed to the loss of 50% of our topsoil over the last 150 years.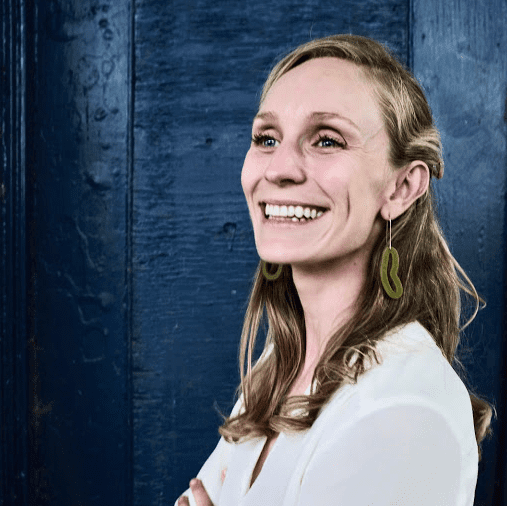 "My biggest source of pride in working at General Mills is the company's commitment to learning from farmers. Our farmer partners are our best teachers when it comes to regenerative agriculture principles, and they have inspired us to launch a company-wide goal to advance regenerative agriculture on one million acres by 2030."
Consumer goods companies have a significant opportunity and a responsibility to address the impact that our products have on landscapes and communities. The good news is that regenerative agriculture—through its potential to sequester carbon in the soil, support biodiversity, and confer a long list of other co-benefits—represents an opportunity to not only reduce harm, but to generate positive impact.

Kiss the Ground: What excites you most about the movement? What makes you most proud to work at General Mills?
Christina: I'm encouraged by the fact that regenerative agriculture is a farmer-led movement. With up to 1/3 of global greenhouse gas emissions coming from the food system, 80% of which come from agriculture, farmers are some of our most important change agents. For the implementation of regenerative practices like cover cropping and diverse crop rotations to scale, these management techniques need to be economically viable for farmers, but they also need to align with farmers' personal philosophies around land management. While the principles of regenerative agriculture aren't new, it's heartening to see a groundswell of producers taking up the cause because they believe this way of farming can build a more resilient business.
My biggest source of pride in working at General Mills is the company's commitment to learning from farmers. Our farmer partners are our best teachers when it comes to regenerative agriculture principles, and they have inspired us to launch a company-wide goal to advance regenerative agriculture on one million acres by 2030.
Interested in learning more about applying regenerative principles to your business? Learn more about our upcoming online course, Regenerative Sourcing and Supply which begins on November 21, 2019.
1. Vermeulen, S., Campbell, B. & Ingram, J. (2012). Climate Change and Food Systems. Annual Review of Environment and Resources, 37, 195-222.
2. Greening Global Supply Chains: 2016 Impact Report. 2016. The Sustainability Consortium. https://www.sustainabilityconsortium.org/wp-content/themes/enfold-child/assets/pdf/2016-impact-report.pdf
3. Soil Erosion and Degradation Overview. WWF. https://www.worldwildlife.org/threats/soil-erosion-and-degradation